Although Singapore plays host to more than 60 art events a month, some recurring events become a mainstay of Singapore's art calendar with hype and ticket sales starting months in advance. The Affordable Art Fair is one of them.
Already in its sixth year, the Affordable Art Fair has had no small role in changing Singapore's art scene. Offering more than 600 artists each edition, the fair presents a diverse range to art collectors and enthusiasts alike. The fair places a strong emphasis on affordability—works are priced between $100 and $10,000, giving first-timers a place to begin a collection. This edition, the 'Under $1,000 Wall' is also back by popular demand.
What distinguishes the Affordable Art Fair from its contemporaries is the refreshing list of programmes and initiatives each edition. Apart from sale of art, the Affordable Art Fair also brings to the foray a slew of art education and enrichment programmes. These consist of talks, 'live' art performances, and workshops; we've already marked our calendars for a wine-painting workshop happening during Art After Work.
Notable highlights of the Fair include an artist performance by Han Bing, and art installations by five artists that punctuate the event at different venues (Arup, Nandita Mukand, Nicola Anthony, In Kyo Back, Denise Schellmann). Not forgetting the Charity Creative Space where for just $10, visitors get to create mini artwork coasters from clay which will then be brought back to the Institute of Mental Health (IMH) where patients will glaze the works with oxides to complete the creative process.
Of course, the art on show continues to be the main attraction for us. Before you start bemoaning the problem of too much art and too little time, did you know that every entry entitles you to another re-entry ticket for the next day of the fair? Now you do.
Here's our list of 10 artists to check out at the Affordable Art Fair.
Contemporary Art Australia, David Hinchliffe, Rain and Light Show, oil on canvas, 2015. 102x152cm, SGD$5500. Image courtesy of the artist.
David Hinchliffe represented by Contemporary Art Australia, Australia
The former Deputy Mayor of Brisbane, David began painting, exhibiting, and selling his works at the age of 12. Over the years, he has had more than 60 solo exhibitions including paintings, sculptures and photographs in locations around the world. David places particular interest on city landscapes, capturing its shapes, noise, and shadows through his paintings. The notion of grit and modernisation commonly associated with cities are subsumed by his study of light and how it moves across surfaces, his style described as "contemporary impressionism".
Lakeer, Natu Parikh, By The Sea, 2013. Oil  on Canvas, 16 X 20 inch. SGD$450. Image courtesy of the artist.
Natu Parikh represented by Lakeer, India
A senior landscape artist from Gujarat, Natu Parikh is a painter who is also heavily involved in the academic and theoretical aspect of art-making. He is widely known for his contributions in the Gujarat art scene and his landscapes and seascapes have always been an inspiration for many young artists over the years. The landscapes presented combine the aesthetic of design and that of colour, which he believes should express the play of light.
The Yangon Gallery, Aung Htoo, Transparency, 2015. Oil, 72x36 Inches, SGD$4000. Image courtesy of the artist.
Aung Htoo represented by The Yangon Gallery, Myannmar
Born in 1985, Aung Htoo is an emerging young artist. In the last 10 years, he has chalked up an impressive resume of 20 art shows in Myanmar, Hong Kong, Singapore, and the United States. Having shown at Art Basel Miami in 2014, Aung Htoo is known for paintings that approach hyper-realism. His fascination with still-life and transparent objects display a strong grasp of technical skill.
The Tolman Collection, Susumu Endo, Space & Space Nature, 2006. Lithograph, 75x55cm, Edition of 75. SGD$700. Image courtesy of the artist.
Susumu Endo represented by The Tolman Collection, Tokyo/Hong Kong
Susumu Endo is a Japanese visual artist known for his work with prints that combine photography, the computer, and lithography, exploring new relationships with emerging media. Born in 1933, Susumu first trained as a graphic designer before printing lithographs of everyday objects. In 1992, he started to incorporate the computer in his work, with nature a recurring element in his prints. His work is strikingly contemporary and ethereal, and he has said that "The source of my creative thoughts is to form structural expressions in my mind space. There I layer several different timelines into one, or construct a world where the real and unreal coexist and interact."
Utterly Art, Andre Tan, Hello Smiley (Pink), 2015. Acrylic on canvas, 122x122cm. SGD$3800. Image courtesy of the artist.
Andre Tan represented by Utterly Art, Singapore
A graduate of LASALLE's Masters of Arts in Fine Arts, Andre Tan creates work with regard to the sensibilities of Pop Art. By using reproduced images found from pop culture in the commercial style of advertising and mass communication, Andre questions our negotiation of self-identity in the context of a mass-media economy. His works are bright and seemingly happy, but at the same time ironic as it challenges our worship of popular culture.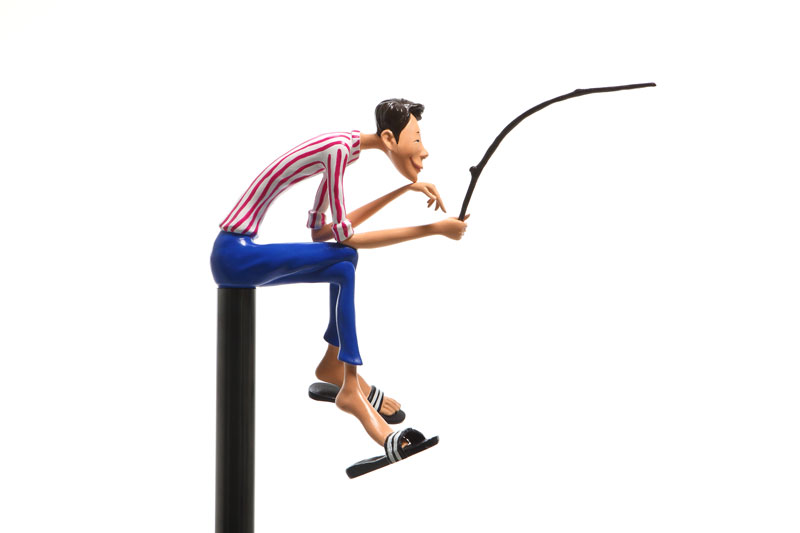 Gallery SUN Contemporary, Kim Gyung Min, One Afternoon, 2013. Acrylic on bronze, 50x10x30(H), SGD$8,400. Image courtesy of the artist.
Kim Gyung Min represented by Gallery SUN Contemporary, Seoul, Korea
Singaporeans who live in the east might be familiar with Kim Gyung Min's works. Titled Shopping with the Family, a set of larger-than-life bronze sculptures depicting a happy family of five were commissioned for Bedok Mall in 2013. Kim's sculptures exude vibrancy and fun, featuring colourful characters carrying out daily activities. The artist is married with three children, and is inspired by everyday happenings at home.
H-art Beat Gallery, Ryuma IMAI, Horse, 2015. Enamel & Acrylics on Paper, 57x76cm, SGD$3,210. Image courtesy of the artist.
Ryuma Imai represented by H-art Beat, Japan
Born in 1976 in Japan to an artist family, Ryuma Imai is an internationally acclaimed Japanese contemporary artist of his time. Do not be fooled by the seemingly whimsical and simple subjects of his works, Ryuma uses 'gravity' as a tool for creating his depictions of living animals.  His works are created by pouring the enamel directly on the canvas. Without perfect control over where the paint will go, the result of the paintings are almost never the same, which is also a reflection of the lives of the animals he paints—uncertain and never the same.
Art Projects Gallery, Leah Clough, A Place for You and Me, 2015. Ink on Paper, 22cm Diameter, SGD$1,000. Image courtesy of the artist.
Leah Clough represented by Art Projects Gallery, Hong Kong
Born in 1985 in Hong Kong, Leah Clough pursued her university art education in England and lived there for nine years before returning. Her drawings are inspired by the ever-changing city. Using only ink, pencil, and print, Leah's highly detailed illustrations are a joy to admire up close; the line detail of her work guiding the viewer's eyes across the paper.
be&art, Gilles SOUDRY, VOLUTE N°4, 2014. Photography, 120x120cm, Edition 1 of 8. SGD$6000. Image courtesy of the artist.
Gilles Soudry represented by be&art, Florida, USA
Gilles Soudry is trained in photoengraving with a specialisation in chroma. He uses two approaches in his works, one of capturing the consistency of material through its fine and sharp lines, and secondly through the use of geometry applied to objects and even shifting figures of fluids. His hazy smoke photographs entice the viewer into its film noir world; evoking textures of velvet, and forming billowy yet recognisable shapes.
Envie d'Art Gallery, Cecile Plaisance, Koon's Dog B. Lenticular print, 2015, 90x120cm, edition 8 +2AP. SGD$6,300. Image courtesy of the artist.
Cécile Plaisance represented by Envie d'Art, Paris, France
Cécile Plaisance is a French artist who appropriates the iconography of the Barbie doll to explore modern day issues of femininity and feminism, along with its inherent trait as a universal icon of entertainment. Photographed in her studios, the dolls take on life as their waxy skin shew tender flesh, their expressions sensitive and ambiguous. After working in a male-dominated environment for years, Cécile left her job in finance to pursue full-time photography. Her work has been exhibited in numerous international art fairs in New York, Miami, Singapore, Hong Kong, Brussels and Paris.
---
The Affordable Art Fair Autumn Edition opens from 12 to 15 November 2015, at the F1 Pit Building. Ticket prices and opening hours can be found here. 
---
To keep track of the Affordable Art Fair and its events, download ArtHop:
(Click image for link)