We are all accustomed to art hung in museums, galleries, and in more recent times the hallowed halls of convention centres—basically anything that fits the globally accepted standard of art on a white wall. On the contrary, Art Apart Fair is one of the pioneering art fairs in Singapore held in the unusual choice of a hotel, a location both jarring and strangely accessible at the same time. Walking requires a careful manoeuvre around bodies, furniture, and of course, expensive artworks.
Returning for its sixth year, this edition highlights Filipino art with an assembly of more than 50 Filipino artists and 16 exhibitors. The fair is spread across level 14 of the PARKROYAL on Pickering, a hotel known for its sustainable architecture that marries city glitz and greenery in a continuous 'urban parkland'. The corridor is a T-shaped walkway with fountains and plants interspersed between rooms. Though at first the make-shift galleries seem stuffed to the brim with works hung or laid on any surface available, we enjoyed the childlike pleasure of finding works in unexpected corners.
In particular, the Presidential Suite stands out. The works are playfully curated with sculptures taking center stage, paintings hung on the grid-like design of the suite. The entire set-up is reminiscent of French art salons during the Enlightenment, and inviting armchairs similarly welcome fair visitors to discuss—rather than scrutinize or snap photos—at leisure.
A Reading in the Salon of Mme Geoffrin, 1755.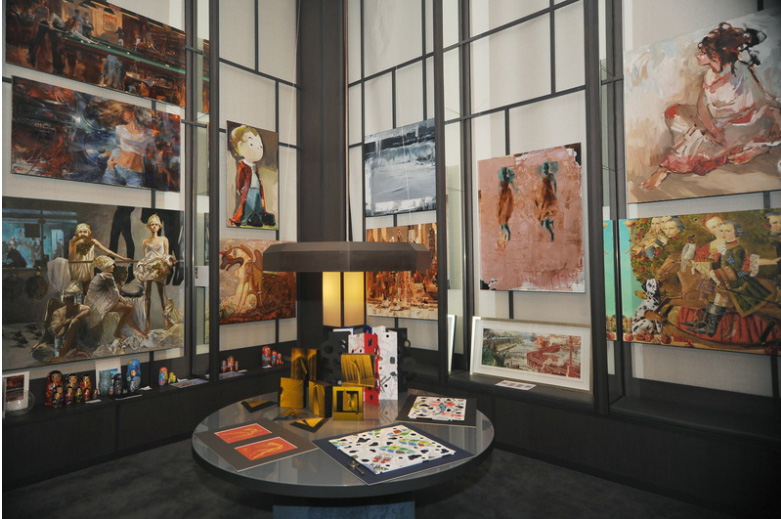 Art Apart Fair.
Museo Orlina, Art Apart Fair 2015. Photo: ArtHop
In Museo Orlina's showcase, the fluid-like glass sculptures captivate. Using the method of cold glass sculpting, each work undergoes painstaking sandblasting, grinding, and bonding.
Utterly Art, Art Apart Fair 2015. Photo: Utterly Art Facebook
Be sure to drop by Utterly Art to view contemporary works by Singapore and Filipino artists. We spotted Yen Chua's paintings in the showcase!
Omelet mantle, Kunihiko Nohara. Fiberglass resin. Gallery UG. Art Apart Fair 2015. Photo: ArtHop
Gudetama, anyone? These sculptures are by Japanese artist Kunihiko Nohara, whose other works include figures wrapped in clouds. Debuting their first Singapore exhibition in May, Gallery UG is guided by the concept of "Laissez faire", an economic system of exchange free from external interference which is translated into works by the artists that is art made for art's sake.
---
Art Apart Fair ends on 19 July at 9pm, at PARKROYAL on Pickering. An art auction is also set to take place on the last day. Click here to follow Art Apart Fair on Facebook.